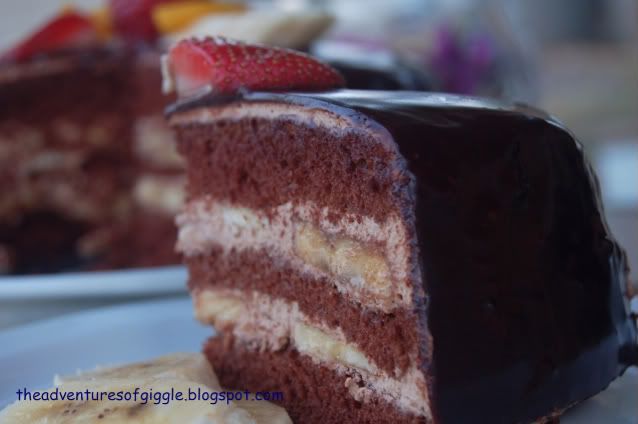 This is a "jump queue" posting. I still have many recipes lined up to post. But my friends - Lay Yin and Amy - were so excited about this recipe when they heard I made this cake. So I'm posting it first.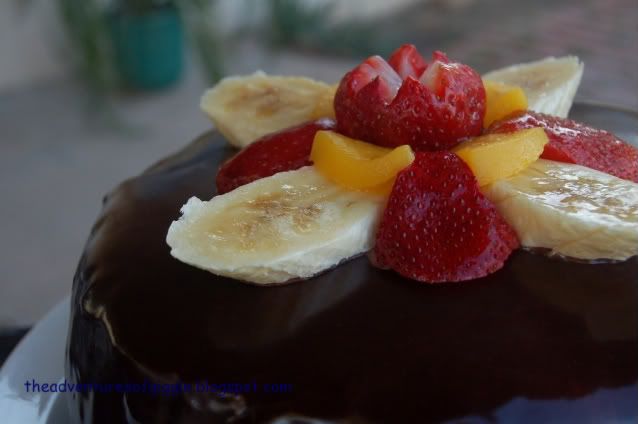 The first cake I had at Secret Recipe (about 8~9 years ago) was Banana Chocolate Cake, I chose this cake because I'm a big fan of chocolate (dark one). I swore that I would make this cake one day. Now I made it happen.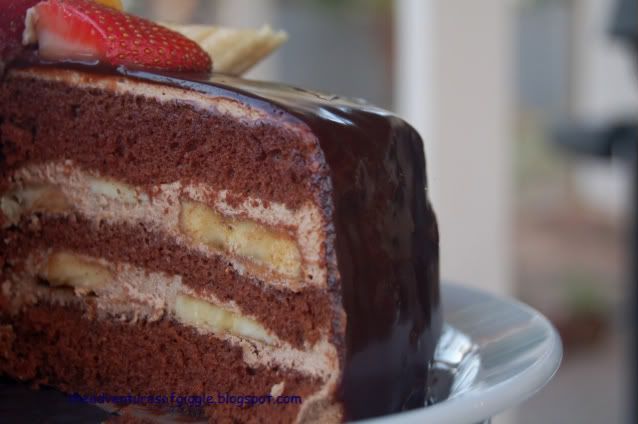 This is a "big" project, trust me, you got to be very patient and careful with the processes, then clean up the messes
(Tom: "Or have someone to clean up for you!)
But, all these are worthwhile and gratifying when it turns out satisfying. Isn't that feel amazing when you are able to make your favorite cake to your preferred taste? I am so happy now!! LOL!!!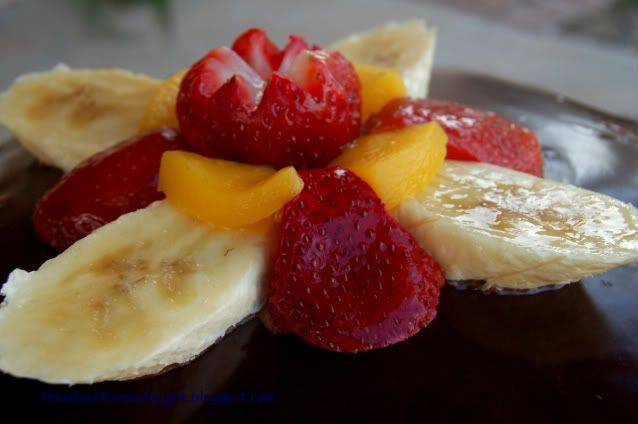 OK, here are the ingredients and steps. HAPPY BAKING!!
A. Chocolate Chiffon Cake
1. 3 egg yolks
2. 98g cake flour - sieved
3. 60g sugar (original recipe - 75g)
4. 25g cocoa powder - mixed with 90ml water
5. 45ml vegetable oil
6. 1/3tsp baking soda - sieved
7. 1/3 tsp baking powder - sieved
8. 3 egg whites
9. 30g sugar (original recipe - 45g)
Steps :
1. Preheat the oven at 350F/180C.
2. Line the bottom of a 8" spring form cake pan.
3. Whisk ingredient # 1~ #7 until smooth. Set aside.
4. In a large mixing bowl, whisk the egg whites until foamy. Add in sugar and continue to whisk until stiff.
5. Fold in mixture # 2 into #3. Lightly stir with spatula to mix well.
6. Pour the cake mixture into lined cake pan.
7. Bake for 40~45 minutes.
8. Remove from the oven, invert the cake and leave for completely cool on the cooling rack.
9. Slice the cake to 3 layers horizontally.
B. Filling
1. 4 ripe banana - slanting cut to 4~5mm slices
2. 450ml whipping cream
3. 3tsp cocoa powder
4. 1 1/3tbsp instant coffee powder
5. 1 tbsp gelatin - dissolved in 35ml warm water
6. 2 tbsp powdered sugar
7. 1 tsp vanilla extract
Steps :
**ONLY PREPARE THE FILLING WHEN THE CAKE IS COMPLETELY COOL**
1. Mix the cocoa powder and coffee powder with 2 tbsp boiled water, stir to mix well.
2. In a large mixing bowl, whisk the cream until stiff.
3. Add in the coffee and cocoa mixture, gelatin, powdered sugar and vanilla extract. Lightly stir it to mix well.
4. Spread the filling onto the first layer of cake.
5. Place the banana slices on top of the filling.
6. Spread the filling again on top of the banana slices.
7. Repeat the same steps for the second layer.
8. Cover the top layer and circumference with the filling.
9. Refrigerate at least 6 hours or overnight before proceed to next step.
C. Chocolate Glaze
1. 300g semi-sweet chocolate chips
2. 100ml whipping cream
3. 30ml evaporated milk
4. 1 tbsp unsalted butter
Steps :
1. Heat the chocolate, cream, milk and butter in microwave for 4~5 minutes or until it completely melted. Stir every 1 minute.
or
1. Heat up the ingredients with the doubled boiler until completely melted.
2. Lets the chocolate glaze slightly cool off.
3. Slowly pour it on top of the chilled cake.
4. Quickly clean up the mess on the edge and return to chill immediately.
5. Decorate with some fruits.
6. Serve chilled!!! ENJOY!!!!!!!!!!
Freshly baked chocolate chiffon cake ---> Filling layers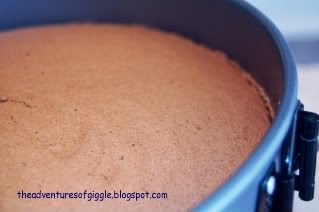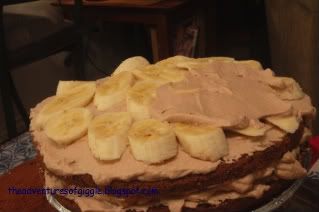 Cake covered with filling --> Pouring chocolate glaze