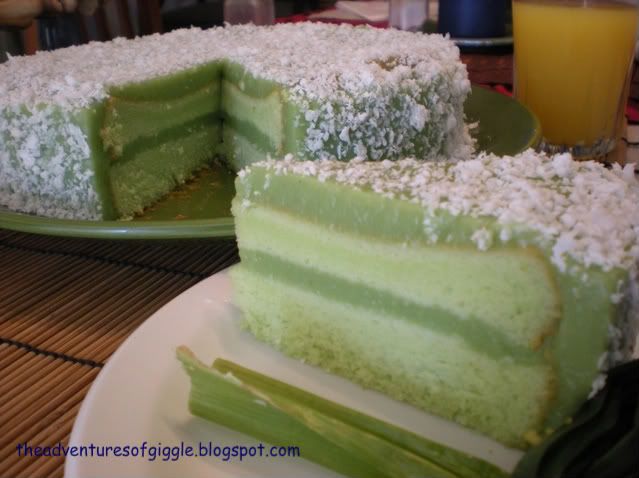 I am always craving for pandan (screw pine leaf) cake and kuih. Pandan leaf is widely used in cake and dessert recipes in Southeast Asian countries. By adding few leaves or juice into your cooking, it provides a natural fresh floral aroma that can not be resisted. The first time I discovered it at Lee Lee, I was so excited, that meant that I could make the cakes or any desserts I like just taste like home, I don't like to add too much pandan extract in my cooking. I usually keep some leaves in my freezer and just grab some whenever I need it.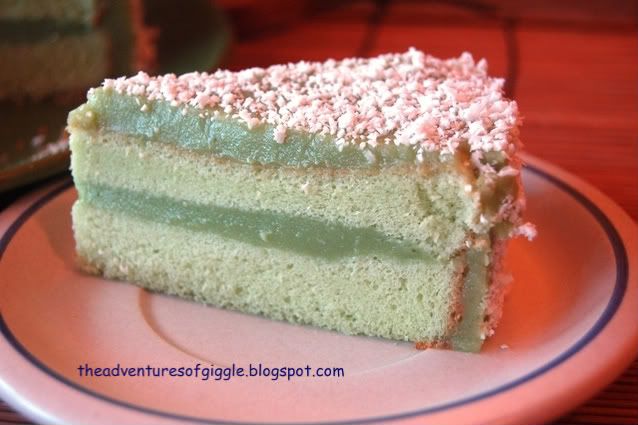 It was quite challenging to make this pandan layer cake. Too much work to do. I'm not quite satisfied with the texture of the pandan filling, it has too much liquid. This is actually my mistake, the original recipe is too sweet to my liking, I added some more water and forgot that I should also have added more arrow root starch. I will definitely make this cake again and adjust the recipe until the texture turns out right.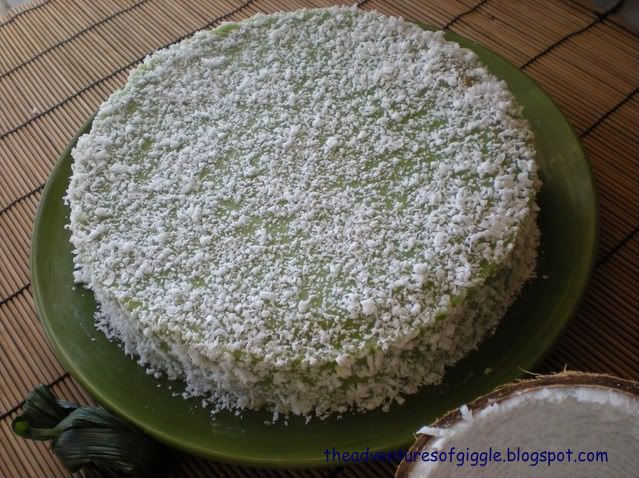 Ingredients for pandan cake :
1) Cake base
A)
i) 90g cake flour - shifted
ii) 1/2 tsp baking powder - shifted
iii) 3 egg yolks
iv) 30g sugar
v) 1/4 cup pandan juice
vi) 1/4 cup vegetable oil
vii) 1/4 tsp salt
viii) 1/4 tsp pandan extract
iX) 1 small drop of green food color (Optional)
B)
i) 3 egg whites
ii) 50g sugar
iii) 1/4 tsp cream of tartar
Ingredients for the pandan filling :
1. 900ML coconut milk
2. 100ML pandan juice (about 20 leaves)
3. 75g green pea flour ( I used arrow root starch as substitute - had to dissolve it in coconut milk first before cooking)
4. 1 tbsp jelly powder
5. 1/3 tsp salt
6. 110g sugar (original recipe called out 130g, its still too sweet for me at 110g)
7. 1/4 tsp pandan extract
8. 1~2 small drops green color
Decoration :
50g of fresh grated coconut
Steps :
Cake
i) Line a 8" spring form cake pan, preheat the oven at 350F.
ii) In a mixing bowl, mix ingredients A until well combined.
iii) In a separate larger and clean mixing bowl, whisk ingredients B until stiff.
iv) Gently fold in step # iii, lightly stir with plastic spatula to mix well.
v) Pour the mixture into cake pan, bake for 40~45 minutes.
vi) Invert the cake for cooling.
vii) Slice the cake to 2 layers horizontally.
Filling
1. Cook the filling ingredients until slightly thickened, do not bring to boil. Divide to 2 portion.
2. On a flat plate/cake board, arrange the loosened 8" ring to sit on top of it so there is an even gap all around. This will make the mold - like a "Jello mold" - for the topping to form into. Place a slice cake into the cake ring, pour the first portion of filling into cake ring, repeat the same for the second layer.
3. Refrigerate until set.
4. Remove the cake ring and decorate with the grated coconut. Return to fridge , chill overnight.
5. Serve chilled.