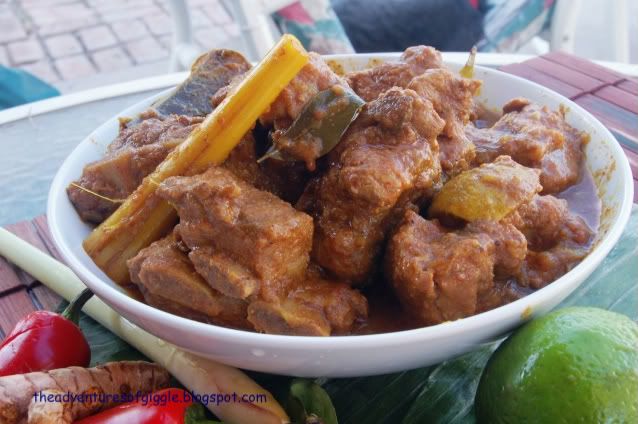 Curry Pork Ribs
Curry is very popular in Malaysia. There are 3 major races in the country. You can find a variety of curries served in our daily meals. Indian style, Malay, Chinese or Nyonya, each of them has their own specialty of taste and flavor. I love curry very much. I used to cook seafood curry while I was in Malaysia because the seafood ingredients are fresh and not expensive.
The choices of the fresh seafood in Arizona are limited and expensive. So, most of the time, I would just cook curry chicken or pork rib to serve with Nasi Lemak (coconut rice).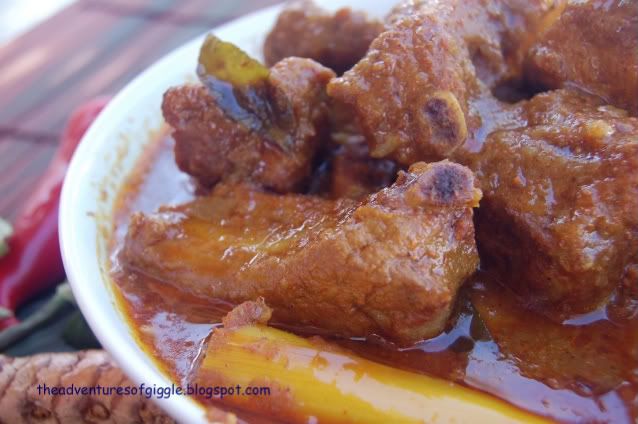 Curry Pork Ribs
Besides the
Pandan Layer Cake
, I have also made some curry pork ribs for the Pot Luck Party on last Saturday. As some of the guests are vegetarian, I split the curry gravy to cook with some vegetarian mutton so that everyone had the chance to taste it. I made my curry with a less intense flavor because most of them are Taiwanese, they might not used to the strong and spicy curry that I usually cook.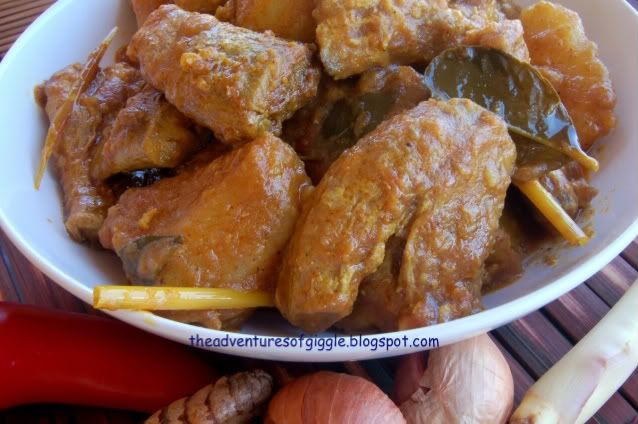 Curry Vegetarian Mutton
In following ingredients, you will find I used 2 types of curry powder/paste. The Kapitan curry powder has stronger and spicy taste, usually done in just little gravy, mixing with Rendang curry paste is my own version of curry that everyone likes. You may try it.
Ingredients :
A)
1. 2kg Pork ribs - marinate with 2 tbsp Kapitan curry powder and 1/4 tsp salt.
2. 3pcs potato - cook seprately with until tender, peel and cut to 1.5" chunks
B)
1. 1 pack (75g) Kapitan curry powder - mix 2tbsp of powder with 1/4 tsp salt - rub with the pork ribs for evenly coated. Mix the rest of the powder in a bowl of 20ml water.
2. 1 pack (50g) Rendang curry paste.
3. 500g shallot - blended
4. 10g fresh turmeric - blended with shallot
5. 1 stalk of lemon grass - cut to 2 or 3 pieces 2.5" length, cracked.
6. 6~8 curry leaves
7. 1 tsp lime juice
8. 2~3 kaffir lime leaves
9. 60ml coconut milk
10. salt to taste
11. Some water (adjust according to your preferred curry gravy)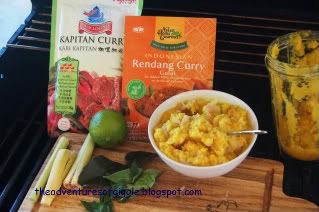 Steps :
1. Quick fry the pork ribs for 1 minutes each side. Set aside.
2. Cook the onion and turmeric mixture in 2~3 tbsp red-hot cooking oil for 4~5 minutes or until fragrant.
3. Add in Kapitan curry mixture and Rendang curry paste, lemon grass and curry leaves. Stir and fry for 5 minutes. Add in some more oil and adjust the heat to prevent burning.
4. Add in quick prefried pork ribs. Stir and cook for another 5 minutes. Adjust the heat to prevent burning.
5. Add water, bring to boil, add the precooked potato chunks. Simmer covered until the meat reach your preferred tenderness.
6. Add in coconut milk, lemon juice and salt to taste.
7. Turn off the heat, and immediately add in the kaffir lime leaves. Don't cook the leaves, it will make your curry bitter.
8. Skim the extra oil on the top the curry gravy.