When I feel too lazy to cook, a chicken wrap is always the first choice that comes to my mind. It is a quick and easy meal. I used to have some marinated chicken breast in my fridge for a quick meal like chicken wrap, fried rice or noodle, and easy spaghetti. I have a variety of types of seasonings kept in my pantry. I don't have any particular flavor for the chicken wrap, just mix and match with some seasoning I have in my pantry.
Ingredients and Steps :
1. 280g boneless and skinless chicken breast. - cut to bite size strips, marinate for at least 3 hours with some salt and garlic powder, paprika powder, lemon zest, thyme and parsley flakes. You may make your own flavor chicken strips according to your preferred seasoning - it is flexible.
2. 3pcs of burrito size tortilla
3. Some chunky salsa - see
recipe here
4. Some warmed re-fried bean (optional)
5. Few lettuce leaves
6. Some lettuce head shreds.
7. Some shredded cheese (optional)
Steps :
1. Pan fry the chicken strips in a slightly greased saute pan.
2. Cover the tortillas with aluminum foil, warm in the preheated (250F) oven for 3~5 minutes.
3. Place a lettuce leaf on tortilla, top with cooked chicken strips, shredded cheese, re-fried beans, chunky salsa, lettuce shreds.
4. Roll/fold up.
5. Serve with some tortilla chips and salsa. Enjoy!!!
Some seasoning in my pantry.. , re-fried beans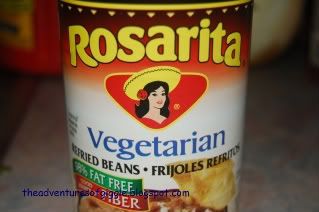 Warmed tortilla, ready to roll/fold!!