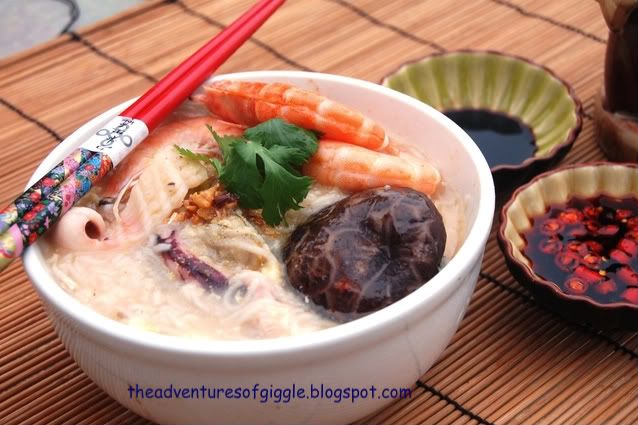 There is a restaurant at Chai Leng Park called Teo Chew Meng. Their famous signature dishes are seafood mi sua kor, porridge or noodle. The business has been expanded these few years, you may find their branches in Penang Island too.
The last time I dined there was a long time ago - maybe 10~11 years?? Ya, I never went back to this place - not because of the food quality, it is rather the price issue. We spent about RM30 for 2 bowl of mi sua kor, expensive huh? I couldn't afford to dine there with my family (8 members) very often, or we would have filed for bankruptcy!! LOL!!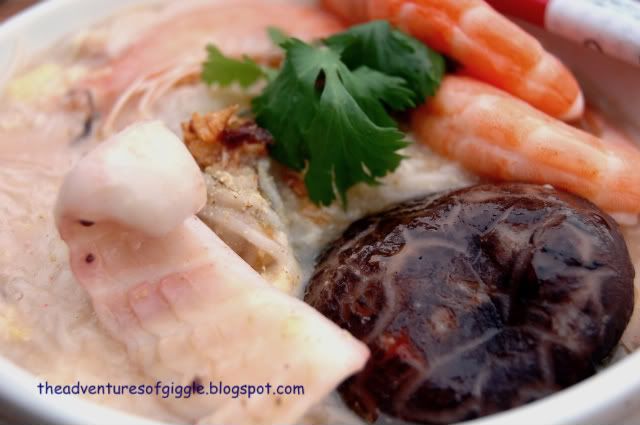 Since then, I started to cook my own version mi sua kor whenever I'm craving for it. Especially during the Chinese New Year. I always use the chicken stock and the fresh seafood ingredients that are leftover from the reunion dinner to cook mi sua kor. That costs a lot less than it would to bring my whole family to Teo Chew Meng..LOL!!!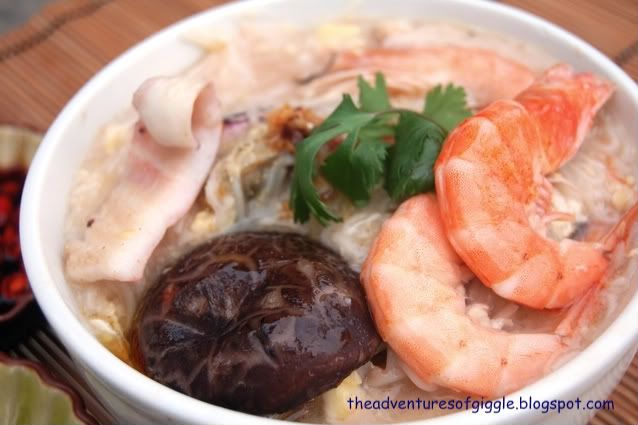 Ingredients (for 2~3 people) and steps :
1. 900ml chicken stock
or
1. 900ml water
2 1pc whole chicken bone
3 1" ginger
4. 1pcs dried scallop (
江
瑤
柱
)
5. 2~3 pcs dried mushroom - slice
6. 1/2 tsp white papper corn - crashed with knife
7. 75g mi sua (面线) - quick rince with water before adding to chicken stock
8. Variety seafood - prawn, fish, squid, octopus, sea cucumber...etc.
9. Salt to taste
10. 1 tbsp tapioca starch (太白粉) - mix with 1 tbsp water
11. 1 egg - whisk for egg drop (optional)
12. Some garlic oil, sesame oil and white pepper powder.
13. Some Chinese celery or cilantro
14. Dark vinegar (optional)
Steps :
1. In a non stick pot, boil the water and add in the ingredients from #2 ~ # 6, cook at low heat for 30 minutes.
2. Remove the chicken bone, and ginger.
3. Add in mi sua, slightly stir for few second to prevent it stick together.
4. Simmer for 35~ 40 minutes
5. Add your preferred seafood ingredients, bring to boil over high heat, don't over cook the seafood.
6. Salt to taste.
7. Thicken the mi sua kor with tapioca batter, stir well to prevent lumpy soup.
8. Pour in whisked egg (optional), wait for 4~5 second and stir.
9. Remove from heat, serve immediately.
10. Top with some garlic oil, sesame oil, white pepper, Chinese celery or cilantro.
11. Add some vinegar (optional)