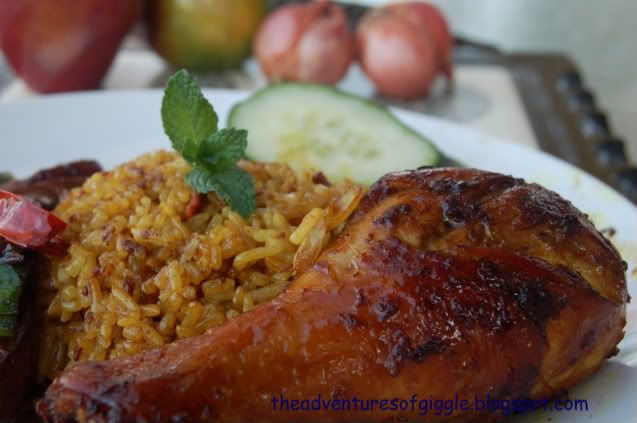 Turmeric is widely used in Asian culinary dishes. It is a significant spice in curry powder/paste, and also many others South Asia traditional foods. It is thought to have many medicinal properties. I have learned from my home country that Malay women will drink pure fresh turmeric juice during the month of confinement after delivering a baby, I know that many Chinese ethnic women in Malaysia practice the same too, for gastrointestinal discomfort relief.
Many people like to use it in dried powdery form, which is more convenient for your food preparation. I like to use fresh turmeric (just like I like fresh ginger,) even though there is more work to be done.
My mom used to cook turmeric chicken when I was little, and I always ended up eating 3 bowls of rice whenever she cooked this dish. I liked to mix the sauce with rice, add some soy sauce, then finish all the rice first and leave the chicken to be the last thing to be eaten - save the best for last!! LOL!!
I was hesitant the first time I cooked this dish for Tom and Cici. I wondered if they could handle the smell and weird yellow color of the turmeric sauce. I didn't mix the sauce and rice for them the first time, I just told them that it would taste better if they follow my directions, and they gave me a very good response.
Please don't be afraid when you have yellowish finger nails or cooking ware when you prepare this dish. They can be washed out in within a day or two, and this delicious dish is worth the mess!
Here's the recipe.
1. Chicken (preferred leg or wing) - 2lbs (about 6 chicken drum sticks)
2. Cooked rice for 5~6 people
Marinating Ingredients :
1. 55g fresh turmeric, pound to mashed
2. 90g minced shallot
3. 1/4 cup soy sauce
4. 3tsp dark soy sauce
5. 2tsp sugar
6. 2tsp sesame oil
7. 1 table spoon oyster sauce
8. 2/3 tsp white pepper
Some extra sesame oil, soy sauce and white pepper for the rice.
Steps :
1. Cut a line on both sides of the drum sticks.
2. Mix the minced shallot with turmeric mashed, pounding to mix well.
3. Combine all the marinating ingredients in a container.
4. Rub the chicken pieces until evenly coated.
5. Refrigerate overnight, turn once for evenly marinating.
Cooking :
1. Grease and heat up a non-stick pan, place the chicken pieces on the pan, and cook in low medium heat, adjust the heat accordingly to prevent burnt meat. Cover with lid for faster cooking.
2. Cook about 8~9 minutes per side for drum stick, the cooking time for the others cut should be shorter.
3. When the chicken is done, remove them from the pan.
4. Pour the left over marinating sauce into the pan, bring to slightly boil.
5. In low heat, add in the rice, stir to mix well, add some sesame oil, soy sauce and white pepper to taste. This process should be done in a about 2 minutes, don't over cook the rice. Serve warm.