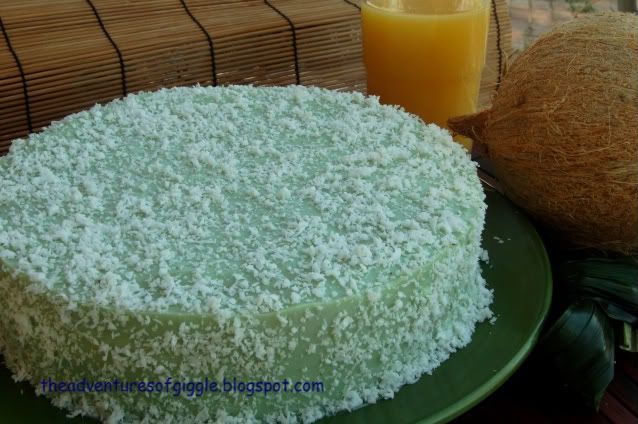 I made another Pandan Layer Cake for the Pot Luck Party last Saturday since I have some left over grated coconut from my last attempt. I have got the amount of sugar for the filling reduced from 130g to 95g, which is perfect to my sweetness level as well as for those people who are without a sweet tooth. The filling is more solid now. I made a mistake last time by adding more water to dilute the sweetness of the filling. To avoid this mistake, while cooking the filling, you may add the sugar slowly until it turns out to your preferred sweetness level.
For healthy issue, I also reduce the amount of the food color this time, as you can tell from the pictures, it doesn't look too much green.
Here's the recipe and steps again, I have also included some pictures to illustrate how I made the layers, hope it helps.
Ingredients for pandan cake :
1) Cake base
A)
i) 90g cake flour - shifted
ii) 1/2 tsp baking powder - shifted
iii) 3 egg yolks
iv) 30g sugar
v) 1/4 cup pandan juice
vi) 1/4 cup vegetable oil
vii) 1/4 tsp salt
viii) 1/4 tsp pandan extract
iX) 1 small drop of green food color (Optional)
B)
i) 3 egg whites
ii) 50g sugar
iii) 1/4 tsp cream of tartar
Ingredients for the pandan filling :
1. 900ML coconut milk
2. 100ML pandan juice (about 20 leaves)
3. 75g green pea flour ( I used arrow root starch as substitute - had to dissolve it in coconut milk first before cooking)
4. 1 tbsp jelly powder
5. 1/3 tsp salt
6. 95g sugar (original recipe called out 130g)
7. 1/4 tsp pandan extract
8. 1~2 small drops green color
Decoration :
50g of fresh grated coconut
Steps :
Cake
i) Line a 8" spring form cake pan, preheat the oven at 350F.
ii) In a mixing bowl, mix ingredients A until well combined.
iii) In a separate larger and clean mixing bowl, whisk ingredients B until stiff.
iv) Gently fold in step # iii, lightly stir with plastic spatula to mix well.
v) Pour the mixture into cake pan, bake for 40~45 minutes.
vi) Invert the cake for cooling.
vii) Slice the cake to 2 layers horizontally.
Filling
1. Cook the filling ingredients until slightly thickened, do not bring to boil. Divide to 2 portion.
2. On a flat plate/cake board, arrange the loosened 8" ring to sit on top of it so there is an even gap all around (you may stick the ring on the plate with few spots of candle wax, this will prevent the ring from moving when you fix the filling). This will make the mold - like a "Jello mold" - for the topping to form into. Place a slice cake into the cake ring, pour the first portion of filling into cake ring, repeat the same for the second layer.
3. Refrigerate until set.
4. Remove the cake ring (and the candle wax) and decorate with the grated coconut. Return to fridge , chill overnight.
5. Serve chilled.
Stick the cake ring with wax ->cover the fist slice of cake with the filling -> repeat the same for second layer. The last picture is my tool for grating the coconut.