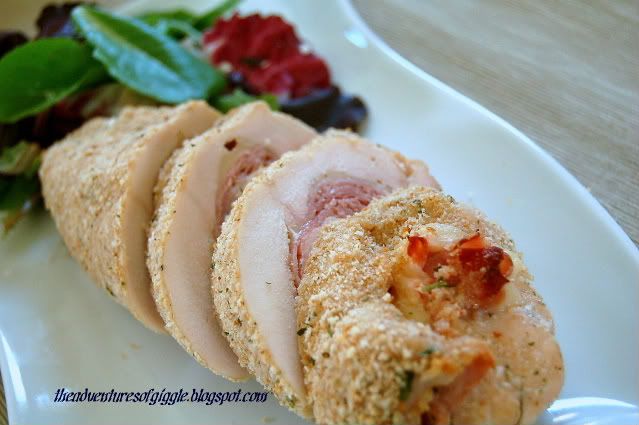 What is the meaning of Cordon Bleu? I asked Tom when I first saw this dish on the menu in a restaurant. He told me that it is the name of a culinary school. Cordon Bleu is a French word, means "blue ribbon", which was referred to the apparel of the knights in France back to 15th century.
And what is that chicken related to cordon bleu? Umm..... I couldn't find the right answer. It might be a dish that invented by a chef in the Cordon Bleu culinary school. The history of Chicken Cordon Bleu is a little vague, some people said it was invented in the United States, and some said it was developed in Europe.
Anyway, traditionally, it is a piece of chicken breast stuffed with cheese (Swiss or Gruyere) and sliced ham. Then the stuffed breast is coated with bread crumbs and either pan fried or oven baked.
I have made this dish several times with aged Swiss cheese. I never had aged Swiss cheese before, got that accidentally because the shop was running out of the normal type. For those huge cheese fans, aged cheese is one of the best. I couldn't handle the strong taste of aged cheese, but Tom and Cici love it very much.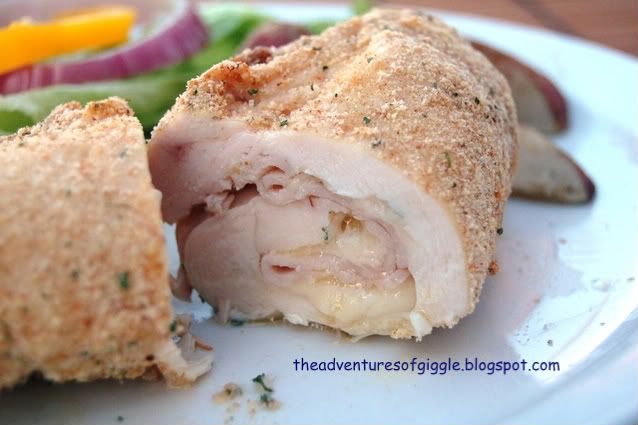 After finishing the pack of the aged cheese I got, I made this dish with the newly bought normal Swiss cheese yesterday. I could handle it much better than before. So, if you are the beginner to the taste of cheese, don't cook this with the aged cheese, it will be like an American eating "stinky tofu" 臭豆腐.
Ingredients :
1. 2 pieces of chicken breast halves.
2. 1/2 tsp parsley flakes
3. 1 tsp garlic salt
4. Some black pepper (optional)
5. 2 slices of swiss/gruyere cheese
6. 2 slices of cooked ham ( I used honey ham or turkey ham)
7. 1/3 cup of seasoned bread crumbs
Steps :
1. Pound the chicken breast with meat mallet to 1/4" thick piece. I don't have the meat mallet, so I sliced the breast with knife to a thinner butterfly piece.
2. Season the chicken breast (both sides) with garlic salt and parsley flakes. Refrigerate overnight.
3. Preheat oven to 350F/175C
3. Place a slice of cheese and a slice of ham on top of each chicken piece.
4. Roll up each piece and secure with 2~3 tooth picks.
5. Coat each stuffed chicken evenly with bread crumbs.
6. Place the chicken on a cooling rack that sitting on top of a baking sheet.
7. Bake for 30 ~ 35 minutes or until the meat is no longer pinky.
8. Remove the tooth picks and serve immediately.
Butterfly slice -> Roll -> Tooth picks secured -> bread crumbs coated - > ready to bake!!