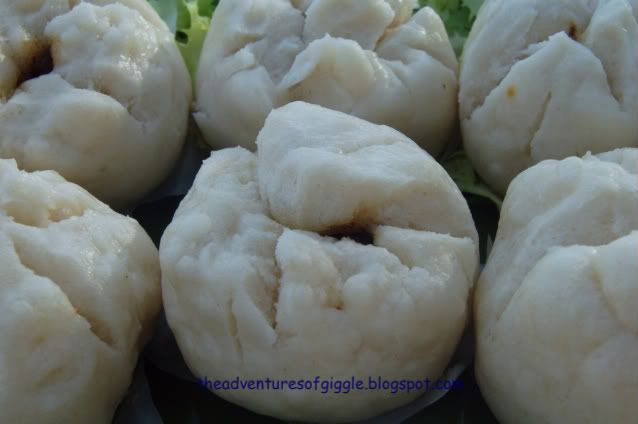 Char Siu bao is a Cantonese saying which means BBQ Pork bun. The bun is filled with BBQ pork chunks mixed with some other seasonings like soy sauce, onion, honey, sesame seed/oil..etc. It is one of the most popular items at Dim Sum (Chinese light dishes) restaurant, and you may find it either steamed or baked.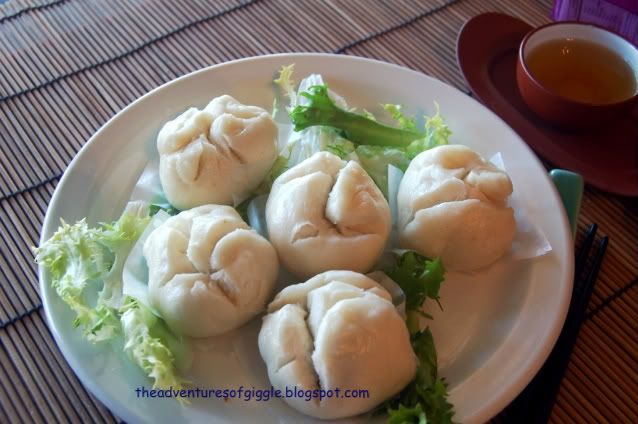 The typical steamed BBQ pork bun will have a "cracked and smiled" skin. So making the dough for this bun is different than any other bun. The techniques of folding and sealing the skin are important to make your bun cracked and smiled. Secondly, the skin edge must be thicker than the middle while you roll the dough, so it will leave extra dough for the bun to crack and smile. Last, keep the sealing edge oil-free and clean from the pork filling.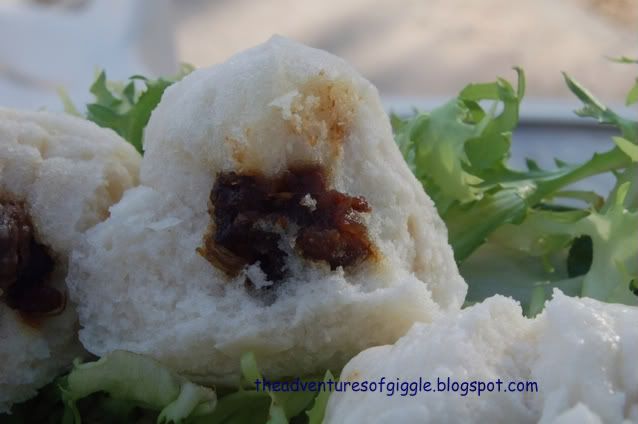 The ingredients for the skin (18~20 petite buns) :
A)
1. 4g instant yeast
2. 70g water
B)
1. 140g cake flour (低筋面粉)
2. 60g wheat starch (澄面粉 - normally used for cai kuih skin)
3. 60g sugar
4. 20g oil
C)
1. 7g baking powder
2. 10g water
BBQ pork filling ingredients below are for your reference, you may adjust the amount according to your personal liking.
1. 120g BBQ pork chunks (see recipe for
BBQ Pork
)
2. 1 tsp sesame oil
3. 1/2 tsp fresh grated ginger
4. 1/4 cup finely chopped green onion
5. 1/2 tsp oyster sauce
6. 1 tsp soy sauce
7. 1 tsp hoisin sauce
8. a pinch of five spices powder
9. a pinch of white pepper
10. 1 tsp honey
11. 1 tsp corn starch
12. some roasted sesame seed
Methods :
1. Mix the yeast in the water.
2. Slowly add in the yeast water into ingredient B, knead to mix well. Let the dough rest for 90 minutes. The dough will be a bit dry at this stage, don't worry, there will be another 10g water to be added in C.
3. After 90 minutes, mix the baking powder in 10g water. Then slowly add into the rested dough. Meanwhile, knead the dough to mix well. Rest for another 20 minutes
4. Divide the dough into 25g balls (for petite size bun).
5. Dust your working surface, hands and rolling pin with some flour.
7. Roll the ball to a 1.5" diameter skin (the middle should be thinner than the edge).
5. Spoon the BBQ pork mixture in the middle of the skin, fold and seal with your fingers. Be careful not to let the filling touch on the edge as this will make your buns not cracked/smiled
6. Steam at high heat for 10 minutes (petite size), 12~15 minutes for bigger size.