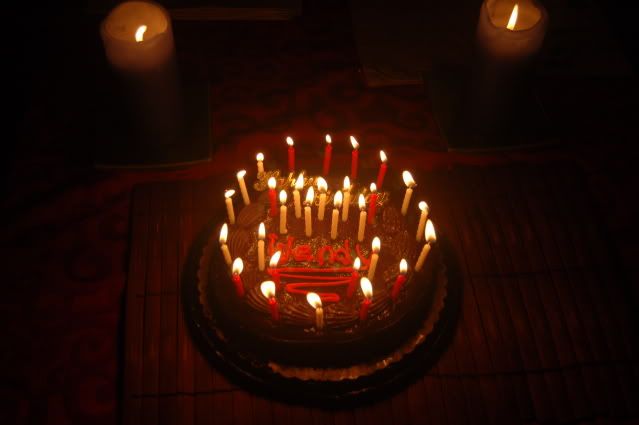 My birthday falls at 9 days after the Valentine's Day, I always got "2 in 1" present in the past., eerrr, which was not fun at all!!! LOL! This year, I thought Tom would celebrate the Valentine's Day and my birthday together too, but he and Cici are always so thoughful and sweet to give me suprises. I'm lucky I found them! :-). Love you guys!!!
Tom took me to a Taiwanese restaurant for dinner, we didn't have a candle light dinner because we are like having "candle light" dinner everyday at home now. Ya.... dinner, with candle lighting. LOL!! Tom wanted to let me have something that I am craving for, I wanted to dine in this place long time ago when I shopped at Mekong Plaza ( a new opening Asian plaza). We ordered few typical Taiwanese foods (not Kung Pow chicken or hot and sour soup which Tom would order whenever we go to Chinese restaurant), the salty crispy chicken and plum juice are highly recommended, the others item tasted so so, we might go back to this restaurant again just for the salty crispy chicken and plum juice.
When we got home, Tom immediately "quarantined" me at the bed room, he and Cici were setting up another surprise to me. What were they doing? Lighting up my favorite flavor birthday cake, dark chocolate, not too sweet :-). I got a purse, a necklace, a pair of earing and a very cool guitar from Tom. Wait!!! Are you wondering when did I start to play guitar?? No no noooo... , I just played the toy guitar for Guitar Hero Game. Tom got me a real guitar that made up for this game, which I have beat Tom so hard with the toy guitar. LOL!! Oh well, I think I need some more time to get use to the new guitar as it is heavier and the buttons are still too tight for me to hit. Tom got no problem for this, Cici can handle it because she is good at playing the hard level now and she has a real guitar for her last Xmas present. Now that Tom beats me hard with this new guitar, ermmm......isn't that's my present?? or his instead???? LOL!!!
Here are some of the foods we had...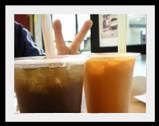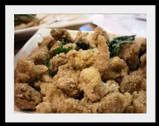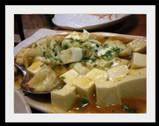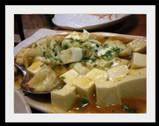 Cake and presents time!!!!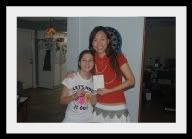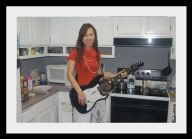 Guitar hero battle!!!!!!! LOL!!