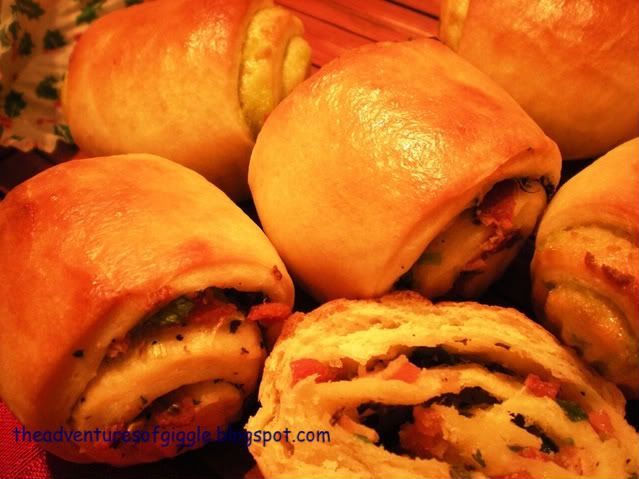 Hooray!!!!!!! I finally found a better recipe for soft bun/roll, they were really soft, we finished them in less than 12 hours. LOL!!! Thanks to my friend
Amy
for sharing the dough
recipe
and her experience with me.
I used to "boycott" bread when I was little as I thought it was the food for "sick" people. Grandma fed me white bread dipped in MILO whenever I was not feeling well - it just tasted bland to me. In these past few years, many fancy franchise bakery shops opened in the Penang area. The variety type of flavor as well as the presentation (shape and decoration) caught my eyes, and then immediately my stomach, and I started to craving for them since then - especially for any kind of soft buns and rolls.
Once, I spent more than RM20 in a bakery shop just for a meal. That was quite expensive right? I have been dreaming about bread baking since then - I just couldn't resist the fresh baking smell from the oven.
This was my third attempt at bread baking. The first 2 recipes didn't come out as I expected. I expected they would still soft to be eaten after overnight.
I split the dough for 3 types of roll this time - Onion Bacon, Pandan Kaya (homemade one), and sweet cheese, wanted to try which is the best,... ermm...eventually they all turned out great!! This is why Tom named this title "rolling around". :-)
Here is the dough recipe from
Cooking Crave
. As the weather condition is different (too dry in Arizona), I proofed the cling film covered dough in the oven at approx. 70 degrees and placed a bowl of hot water inside.
200g bread flour
30g sugar
1/4 tsp salt
5g instant yeast
100g whipping cream
40g fresh milk
1 egg yolk
20g soft butter
Method :

Sieve flour, sugar, salt and yeast in large mixing bowl.
In a separate bowl, mix whipping cream, milk and yolk.
Make a small well in the center of the dry ingredients and pour in the cream solution.
With a whisk, mix it up until it becomes a dough.
Once it becomes a lumpy grainy dough, you can start using your hands to knead it.
Knead until the dough is smooth and not grainy nor rough. It should feel smooth in your hands.
It takes about 15 minutes or longer, depending how you knead it.
When the dough is satin smooth, add in the butter.
Knead it well to let the butter incorporate fully into the dough.
It may feel a little wet at first and may stick to your hands.
Knead until it is non sticky. Kneading this time should take about 30 mins the least.
Stretch a little of the dough, it should not tear off easily and it feels like stretching a thin layer and looks translucent against the light.
If it tears off and looks jaggery, it means you have not kneaded enough.
Once the texture is reached, form it into a ball, leave it in a large stainless steel bowl that has been well oiled and cover with cling film. No droughts.
Put it in a warm place and proof for about an hour or a little more. It should double or triple in size.
Remove the dough, punch down to deflate gas inside.
Divide it into 2 balls. Let it rest for a further 15 minutes in the bowl, covered.
Roll each dough out into a rectangle piece, sprinkle the filling (see below recipe) in the center part.
Place extra butter slices about 2cm apart in a row.
Roll it up like a swiss roll and fold down the two ends below.
Let it sit in your loaf pan and cover with cling wrap.
Rest it for another 15 minutes. Preheat the oven at 325F.
Bake it for about at 325F for 18 minutes, and switch the oven heat to 375F and bake for another 2 minutes.
From the first 2 experiences, I got burnt bun bottom even though I followed the baking temperature called up from the recipe exactly. This time, I lowered the baking temperature to 325 degrees for the first 18 minutes and turned the oven to 375 for another 2 minutes to brown the rolls. I think I will adjust to the right temperature and timing a bit after some more experiments in the future.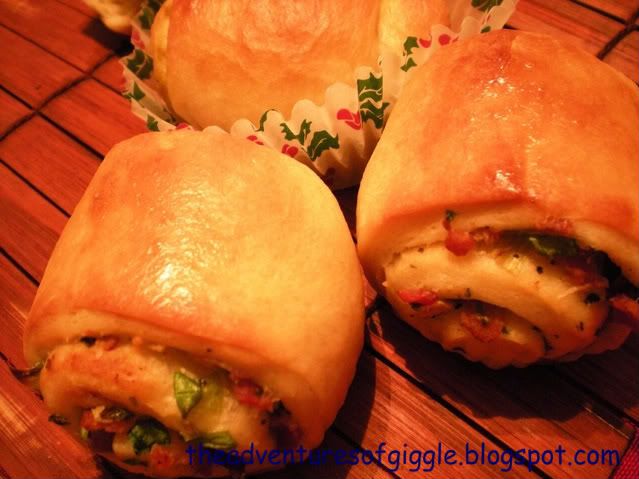 Here are the ingredients for the fillings :
A) Bacon Onion - this is only for 1/2 of the dough, increase the amount if you want to make more.
1. 1/4 cup finely chopped green onion
2. 2 slices of bacon, place them in a plate with paper tower, microwave for 1.5 minutes for each side or until crispy. Remove the excessive oil with a paper towel, crumble and mix with onion.
3. few dashes of black pepper
4. few dashes of garlic powder
5. some Italian seasoning (optional)
6. some Parmesan cheese - sprinkle on top of the onion mixture before rolling the dough.
B) Sweet Cheese filling
1. Any kind of shredded cheese
2. sprinkle some sugar on top of the cheese before rolling the dough, adjust the amount to your personal liking.
I will share the KAYA recipe in future. Still under adjustment to my liking.