Living in America is like being in dessert heaven. Those people with sweat tooth will be very pleased with the varieties of desserts available. The presentation and flavor are irresistible. However, I rarely dare to buy them from the shop - they are just too sweet or always have too much cream for me, but Tom like them very much.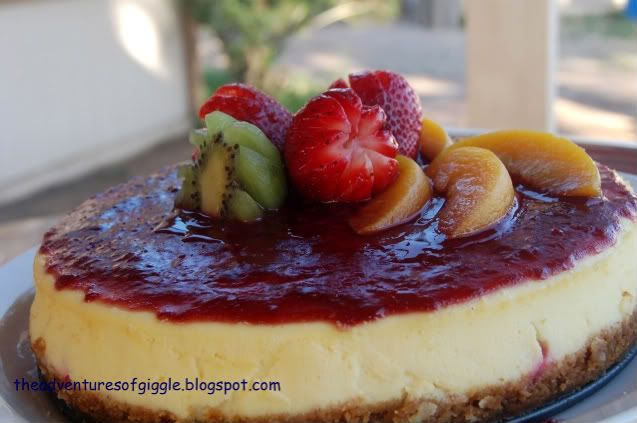 I usually make sugarless cakes in order to keep him eating healthy as much as I can, and still enjoy the flavor of the cakes. I also made the raspberry sauce used in this recipe on my own, so I can control the amount of sugar in that too. You may get it at any supermarket or baking supply shop.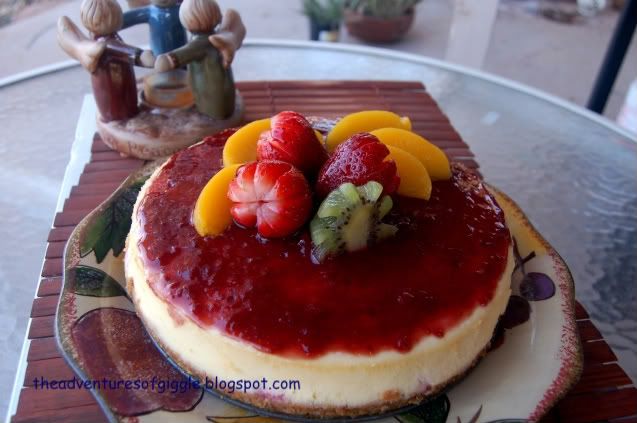 Ingredients and Steps :
A) Base Crust
1. 180g digestive biscuits (milled) OR 180g Graham Cracker Crumbs
2. 25g brown sugar
3. 113g butter - melted
B) Filling
1. 2 blocks (452g) Cream Cheese - at room temperature
2. 90g caster (white) sugar
3. 1/2 tsp vanilla extract
4. 27g corn flour (sieved)
5. 300ml whipping cream
6. 4 eggs - light beaten
7. 180g fresh raspberry (if using frozen raspberry, thaw before use)
C) Topping
1. 10g caster (white) sugar
2. 80ml water
3. 1/2 tbsp gelatin
4. 100g raspberry sauce/jam (I used my homemade one, will post the recipe soon)
D) Decoration
1. Some strawberries, peaches, kiwi or any kind of fruit you like.
Utensils needed
1. 8" spring form cake pan - for cheese cake
2. Bigger outer baking pan/tray - for hot water bath baking method. Fill in the boiled water before placing it into oven.
Steps :
A) Base
1. Combine all the dry ingredients. Add in melted butter, mix well.
2. Press firmly into the base of a 8" loose based cake pan.
3. Refrigerate until firm.
B) Filling
1. Preheat oven at 300F/150C.
2. In a mixing bowl, whisk cream cheese with your electric mixer until smooth.
3. Add in vanilla extract, sugar, sieved corn flour then whisk until smooth.
4. Slowly stir in whipping cream, mix well.
5. Add in beaten egg, mix to just combined.
6. Pour half of the cheese mixture into the cake pan.
7. Arrange raspberries on the cheese mixture.
8. Slowly pour in the rest of cheese mixture.
9. To prevent the hot water seeping into the removable bottom, wrap with aluminum foil completely around the bottom and half way up the side of the cake pan. (I forgot this step but my cheese cake base turned out ok, must make sure the bottom and ring are tighten properly.)
9. Place cake pan in hot water bath, bake in preheated oven for 60~70 minutes or until filling is set.
10. Turn off the heat. Let the cake sit in the oven for 30 minutes with door closed.
11. Remove the cheese cake from oven, leave cool for 2~3 hour at room temperature then refrigerate overnight.
12. Carefully run a knife around the edge, check if any area stick, slowly lift up the ring.
13. Spread the topping sauce (see step C) and decorate with some fruits.
14. Cover and refrigerate.
15. Serve chilled.
C. Topping
1. Combine sugar, water and gelatin.
2. Cook the mixture over medium heat, stir frequently until sugar and gelatin dissolved completely.
3. Add in raspberry sauce, stir to mix well.
Base Crust, cheese mixture and raspberries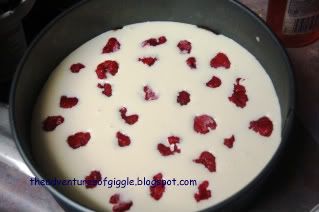 Hot water bath baking method, ring lifting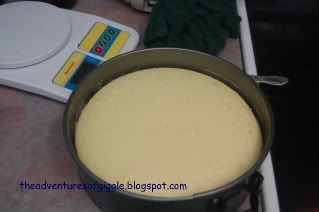 Spread topping, fruits decoration